Home
Introduction
Our Chefs
About The Manor School of Fine Cuisine
Contact/Location
Day / Half Day Cookery Courses
Children's Cookery Courses
Foundation & Certificate Cookery Courses
Corporate Hospitality & Team Building Days



Assistant Teachers


Pauline Ford



Ben Mason

Ben trained at The Manor School of Fine Cuisine and then gained his commercial experience as a chef at 'Perkins of Plumtree' , 'The Hammer and Pincers' in Wymeswold and The Griffin at Plumtree. Ben returned to join the teaching staff at The Manor School of Fine Cuisine in 2008.




Our Chefs
Claire Tuttey
The Principal of the School and chief lecturer is Claire Tuttey CB Dip. CGC., CCC and MCFA, who trained at the Cordon Bleu School in London where she studied for one year gaining a Cordon Bleu Diploma.
After qualification Claire was Head Chef at several establishments: -
The Albion, near Hampton Court, specialising in business lunches: The Ship Dunmore East, County Waterford in Ireland with specialities of fresh fish daily from the harbour, and of local Irish Beef.: The Kennel Holt Hotel in Cranbrook', Kent, a Jacobean country house hotel.
Claire then spent three years at 'Popjoys' restaurant in Beau Nash House, Bath, renouned for maintaining the highest standards with menu changes for each season. Many of the dishes were unique, being conceived "in house".
During that time she acted as Consultant in the cooking and design of a new vegetarian menu at 'The Walrus and Carpenter' Restaurant .
She left Bath, having been head hunted to set up and run Henderson's of Tiverton in Devon, for which she got a flattering entry in The Good Food Guide within 6 months of opening.
An enthusiasm for teaching began when employed on the teaching staff of The Grange in Beckington.
Claire joined the staff at Eggleston Hall Barnard Castle a young ladies finishing school, where 'Ladettes to Ladies ' has recently been filmed.
Having run restaurants and country house hotels, she worked in France, Italy, Austria and Ireland to enhance her extensive knowledge of European Cuisine. Claire founded the Manor School of Fine Cuisine at Widmerpool in the Vale of Belvoir in 1988.
Claire has had commendations in The Good Food Guide, as well as numerous articles written about her and the school in magazines and National Newspapers. She is a regular guest for programs for BBC Radio Nottingham.
Her TV appearances include Heart of The Country, Chef Versus Britain (presented by Claire Sweeney - our Claire was food researcher, and also hosted the program at The Manor School), Mad For It, where she was a Judge.
Claire worked for ten years with Carlton Food Network; she hosted several programs at The Manor School of Fine Cuisine and appeared in many programs filmed in the studio with Michael Van Stratton.
She has judged Young Chef of the Year and was a judge in the heats of Junior Masterchef which were run at the Manor School of Fine Cuisine. She has also given demonstrations at the East of England Show and to large audiences around the Midlands.
Assistant Teachers

James Farrow
We are very happy to welcome James Farrow to our teaching team.
After completing Building Surveying at Nottingham Trent University, James changed direction and moved to Cornwall to begin working at The Well House Hotel's 3 Rosette restaurant. He worked under Master Chef of Great Britain, Tom Hunter learning professional skills and triggering his enthusiasm for cooking.
James then accepted the post of Head Chef at The Barbican in Looe where he ran the busy kitchen there at the age of 22. He then decided to move back to the Midlands where he began as a Sous chef at the Greyhound Inn, Burton on the Wolds, and then at Signatures in Loughborough.
James then joined the team at The Griffin at Plumtree where he stayed for 2 years before joining several catering agencies working around the Midlands. He quickly learned about being thrown in at the deep end to a kitchen sometimes in crisis. He started his own Hog Roast business which has now developed into a busy and successful business expanding into wedding catering of all types, and now specialises in American Street food and whole animal roasts. Whilst the business was building, he then worked as a Chef trainer for HIT Training, providing coaching for young chefs to enable them to achieve their NVQ's in professional cookery.


Andrea Wallace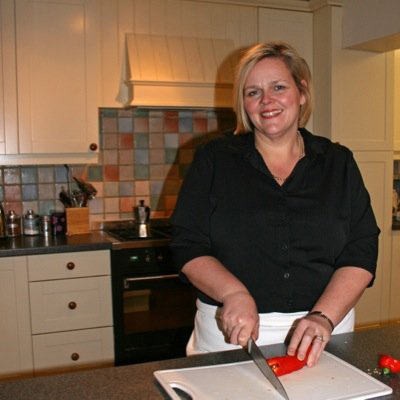 Originally trained at Leith's School of Food and Wine successfully gaining a diploma in Food and Wine. Following qualification, Andrea worked in several of Leith's different divisions gaining critical real life catering experience. Firstly, in their outside catering division, hosting events in large government houses, private functions and the famous Orient Express. Andrea was then promoted to a restaurant based business division serving up to 1500 covers daily. This experience has given Andrea a wide range of knowledge and experience to impart to students. Returning to Leith's School of Food and Wine as a Senior Teacher, teaching year diploma courses, part time and specialist courses, Andrea gained invaluable teaching and demonstrating experience. This role gave rise to media appearances both in TV and Radio, and at the Good Food Show. Following the birth of Andrea's children she relocated to Nottingham, working for Shakerdale Farm Shop demonstrating dishes made with their local produce. This was supplemented by some freelance demonstrating before joining Claire at Nottingham Cookery School.