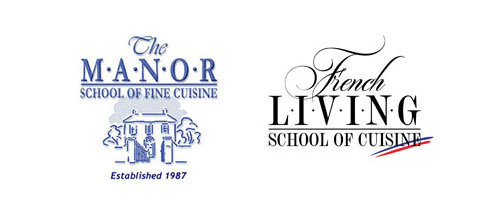 The Manor School of Fine Cuisine
(Formerly the Nottingham School of Cookery, Plumtree)
French Living
School of Cuisine
Bed & Breakfast >>
You can also enjoy a quiet break in this lovely Country Home, known for the first class breakfast.
We take bookings for bed and breakfast.
Short Break Holiday Cookery Courses


All classes are completely hands-on, fun, with plenty of personal attention. Classes are taught in English.
Guests will learn how to cook traditional French dishes as well as visiting local markets, where we will discuss ingredients and learn about seasonal produce from both the land and sea.
Our aim is for guests to enjoy experimenting with unfamiliar ingredients and become confident in menu planning, food preparation, cooking and presentation. Be part of a warm and welcoming kitchen where fun and laughter is part of the seasoning.
Under the guidance of the school principal, English chef and host Claire Roebuck, you will immerse yourself in French life to discover the gastronomic delights of this beautiful area of France.
Beginners, experienced cooks, whatever your skill level enhance your existing abilities. Non-cooking participants are welcome to join.
Guests will be expertly guided through classic French recipes and techniques covering knife skills, pastry, fish filleting, canapés, starters, main courses, side dishes, desserts, and sauces.
Written portfolios of techniques and menus are distributed to all guests.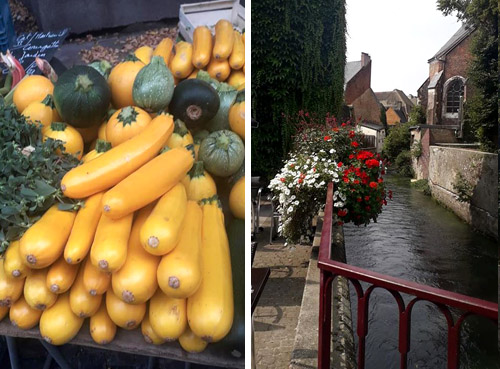 On most itineraries guests visits to the local market are included where we will select and purchase ingredients for their particular course.
In addition to offering fixed courses, we also arrange personal instruction for individuals or small groups who wish to become proficient in a particular aspect of cooking such as bread making or creation of sweets, vegetarian and vegan cooking.
Maximum class size 6 guests to one professional chef. Absolutely no washing up.
Who is this course suitable for?


- Suitable for all, from beginners to experienced foodies. Whatever your skill level, enhance your abilities
- Minimum age 15 with no upper age limit
- Your host is British so all cooking classes are taught in English.
- All dietary requirements should be communicated at the time of booking and will be accommodated
- Come in a group or on your own - this cookery holiday is fun and sociable
- Non-cooking guests are welcome to share a room with a cooking guest and prices for the non-cooking guest will be charged accordingly.



Typical Breakfast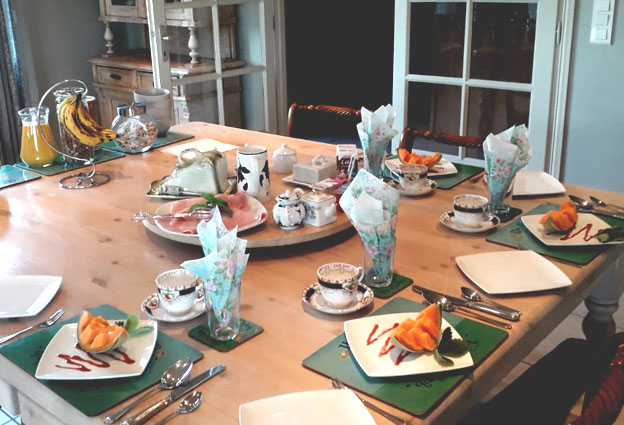 - Fresh baked pastries and breads, including croissants, pain au chocolat, brioche, baguettes, raisin or apple swirls.
- Homemade preserves (made from fruits grown in our garden), marmalades, local honey, yogurt and cereals.
- Homemade hot waffles fresh from the iron with butter and cinnamon sugar.
- Speciality tea or coffee, or enjoy a pot of hot chocolate.
Menus
Menus are planned according to availability of ingredients, any special dietary requirements and guests requests and preferences.
Some Typical dishes:

Starters:
Chicken Liver Pâté
French Country Terrine
Soupe de Poisson
French Onion Soup
Grilled Marinaded Goats Cheese
Provençale Pissaladière

Main Courses:
Fricassé of Guinea Fowl
Beef Bourguignon
Coq au Vin
Raclette
Cassoulet
Blanquette de Veau

Desserts:
Clafouti
Torte au Fromage
Mousse au Chocolat
Frangipane Tate
Short Break Holiday Itinerary


These courses will run every Wednesday, Thursday and Friday commencing October 2020


TYPICAL ITINERARY:
Please note that this itinerary is for guidance only and details can be changed according to your individual needs and wishes.


Wednesday Day 1
- Arrival and settle into your room.
-13.45 Meet your hosts, discuss the programme and menus over a welcome drink.
- 14.00 join Claire in the kitchen to prepare your evening meal.
- The late afternoon is yours to enjoy the garden or relax on the terrace before meeting back in the kitchen at 19.00 last minute prep, to complete dinner with, plating up, garnishing and serving the delicious food that you prepared earlier in the day with like - minded people, interesting conversation and fine wines.
Over supper we will plan an outline for our market trip and purchases the following morning.
After supper we all have the opportunity to sit back and unwind on one of the terraces, in the gardens or by the log burner.


Thursday Day 2
Breakfast 8.30am.
9.30am we will go to the historic town of Hesdin to select the freshest seasonal ingredients for the cookery session from the renowned Hesdin market, where local farmers and growers sell their produce.
After shopping in the market we will return to the School for a light lunch of local cheeses, cured meats and salads.
Guests join Claire in the kitchen to prepare our evening meal.
- The late afternoon is yours to enjoy the garden, before meeting back in the kitchen at 19.00 to complete dinner with some last minute food prep, plating up and serving the delicious food you have prepared.
We will all enjoy eating and discussing the meal together.


Friday Day 3
Breakfast between 8.00am and 9.30am.
Then there will be time to say fond farewells and leave with your new-found skills, new ideas, a renewed passion and confidence for cooking.
A portfolio of all the recipes covered during your stay will be provided to every guest.

£375 per person to include:
- all equipment, produce and tuition
-the provision of an apron and recipe folio to take home
- bed and breakfast
- local shopping trip and market trip
- all meals, drinks and refreshments
- all weighing up / mise en place